If you're working on a fully distributed team, partially remote team, or even just working from home occasionally, this is a selection of low-cost equipment you can use to get your home office setup to a "professional" level.
All of this equipment has been tested extensively to work on:
Google Hangouts
Google Meet
Zoom Video Conferencing
Microsoft Teams
Skype
Slack
FaceTime (on OSX)
Alternative video tools, like WhereBy, Loom, or Jitsi Meet
And, all of this equipment has further been tested on every operating system:
Mac OS X (including Catalina)
Linux (including Ubuntu 18.04 and beyond)
Windows 10
All of the recommendations here also work without special drivers or software.
The main reason for the compatibility is the use of standard USB 2.0 interfaces, which are really the best way to go for the equipment to work well.
The best remote work webcam: Logitech C925e
You should always prefer an external webcam & mic combo to your built-in webcam and mic on your laptop or desktop machine.
The Logitech C920+ models are extremely good and reliable on every operating system.
I recommend the Logitech C925e. This model has a great built-in stereo mic and 720p / 1080p video. It also supports hardware acceleration (aka h.264 encoding) on many platforms and with many video conference tools, which reduces the load on your computer's CPU (and keeps your computer running cooler and using less battery). This particular model also features a simple built-in privacy shutter, excellent monitor mount, and a long USB cable.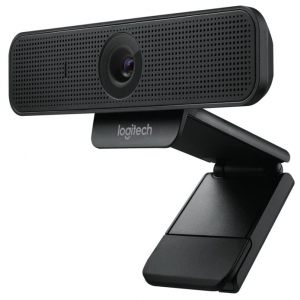 If you can't find the C925e, your best alternative is the Logitech C920. This is the consumer version of the same hardware — the webcam looks a little different but is also a 720p / 1080p HD cam with built-in mics. It doesn't have the privacy shutter, however.