Early on during this startup adventure, a person I trust told me, "Watch out — startups aren't for the faint of heart." Looking back on my personal net income graph from 2009 to present, I can see what he meant.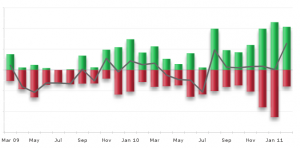 May 2009 is when I entered Dreamit Ventures to begin working on what would become Parse.ly. That's when I plunged my "savings buffer" into the company. The few months after that had me frantically trying to recover from the realization that startup progress is measured in months and years, not days and weeks.
Sachin and I switched gears from targeting consumers with a free product to targeting large online content properties with a paid product, and bootstrapped the company with side consulting gigs. We didn't tell anyone we did the side consulting work (unless they specifically asked). We watched other entrepreneurs go into credit card debt and borrow money from trusting friends and relatives. We didn't believe in that, so we took the hard road of "earning our survival".
However, our costs were going up, not down, as we pursued a more ambitious product with more demanding clients. Also, my expenses skyrocketed as COBRA disappeared for my health insurance and I had to pay for horribly overpriced sole proprietorship plans. (Fact: America's broken healthcare system is harmful to entrepreneurs.) I knew I needed to do something to "stop the bleeding" on my financial situation — so, I took on more consulting gigs…