Early on during this startup adventure, a person I trust told me, "Watch out — startups aren't for the faint of heart." Looking back on my personal net income graph from 2009 to present, I can see what he meant.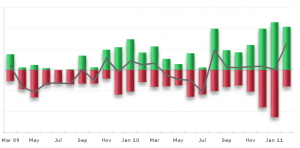 May 2009 is when I entered Dreamit Ventures to begin working on what would become Parse.ly. That's when I plunged my "savings buffer" into the company. The few months after that had me frantically trying to recover from the realization that startup progress is measured in months and years, not days and weeks.
Sachin and I switched gears from targeting consumers with a free product to targeting large online content properties with a paid product, and bootstrapped the company with side consulting gigs. We didn't tell anyone we did the side consulting work (unless they specifically asked). We watched other entrepreneurs go into credit card debt and borrow money from trusting friends and relatives. We didn't believe in that, so we took the hard road of "earning our survival".
However, our costs were going up, not down, as we pursued a more ambitious product with more demanding clients. Also, my expenses skyrocketed as COBRA disappeared for my health insurance and I had to pay for horribly overpriced sole proprietorship plans. (Fact: America's broken healthcare system is harmful to entrepreneurs.) I knew I needed to do something to "stop the bleeding" on my financial situation — so, I took on more consulting gigs…
My consulting gigs only started earning me enough to stabilize my personal expenses late last year. That's when you see my net income turn into a very nice flat line. Those months felt more secure than any of the preceding ones. It was around then that I realized a lot of people took advantage of my desperate position and underpaid me. I raised my prices and started to round up talented engineers to work with me as a distributed team. That got things under control.
Mid-to-end of 2010, I felt like I could conquer the world. My finances stable, I didn't need me no stinkin' investors. We could bootstrap this company to success ourselves. After a year of hard work, I had plentiful consulting clients, and more knocking down my door. There was a stable 50/50 split between Parse.ly time and paid consulting time. We were also on the verge of closing big contracts for Parse.ly. I could cover my expenses well, and saw lots of personal gain in my future. My consulting company even seemed like a nicely profitable and happy company in its own right.
Of course, it was around this time that investors finally decided to notice Parse.ly and that we closed financing. Note to entrepreneurs — no one ever gives you money when you actually need it!
Mid-January was first time in 2 years that I had health insurance paid by someone else and my first "real paycheck" in 2 years. January and February have been amazing, productive, ambitious, and life-changing months. So proud of Parse.ly team and what's coming up next for us.
In all, the past 18 months has been a crazy ride, but I survived! Personal relationships were strained, but not soured. Financial pressure applied, but not to the breaking point.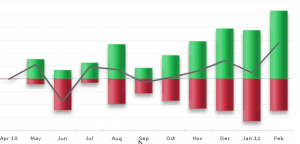 This graph above is also quite an interesting side effect of this process. It shows the net income not for me personally, but for my consulting company, Aleph Point, Inc. In the span of 10 months, I took my consulting company from a 1-man shop to a profitable, legitimate company. That required me to wear a "CEO hat" and focus on things like profit margins, contract negotiation, and customer acquisition. What I like about this graph is that it's a hockey stick profit chart. True, consulting work is not scalable, but it sure is profitable. Of course, due to Parse.ly's funding round, I now need a bigger hockey stick.
"Don't do other things?"
I wanted to write about this experience because it directly contradicts some advice one of my online mentors, Paul Graham, gave in his essay, "How Not to Die". He wrote:
The number one thing not to do is other things. If you find yourself saying a sentence that ends with "but we're going to keep working on the startup," you are in big trouble. Bob's going to grad school, but we're going to keep working on the startup. We're moving back to Minnesota, but we're going to keep working on the startup. We're taking on some consulting projects, but we're going to keep working on the startup. You may as well just translate these to "we're giving up on the startup, but we're not willing to admit that to ourselves," because that's what it means most of the time. A startup is so hard that working on it can't be preceded by "but."
If I hadn't worked on my consulting projects last year, Parse.ly would have died. PERIOD. PG is often right, but he's wrong on this one. I agree that startups require your undivided attention. But surviving isn't a compromise — it's a necessity. Do it however you possibly can.
In any event, I learned a lot from this experience. On to the next! It's time to pump some green for Parse.ly!
Hacker News
Oh, wow. I ended up on the front page of Hacker News. Check out the great comments and discussion going on there. Also, feel free to check out some other posts I've written about startups, such as: