If you're working on a fully distributed team, partially remote team, or even just working from home occasionally, this is a selection of low-cost equipment you can use to get your home office setup to a "professional" level.
All of this equipment has been tested extensively to work on:
Google Hangouts
Google Meet
Zoom Video Conferencing
Microsoft Teams
Skype
Slack
FaceTime (on OSX)
Alternative video tools, like WhereBy, Loom, or Jitsi Meet
And, all of this equipment has further been tested on every operating system:
Mac OS X (including Catalina)
Linux (including Ubuntu 18.04 and beyond)
Windows 10
All of the recommendations here also work without special drivers or software.
The main reason for the compatibility is the use of standard USB 2.0 interfaces, which are really the best way to go for the equipment to work well.
The best remote work webcam: Logitech C925e
You should always prefer an external webcam & mic combo to your built-in webcam and mic on your laptop or desktop machine.
The Logitech C920+ models are extremely good and reliable on every operating system.
I recommend the Logitech C925e. This model has a great built-in stereo mic and 720p / 1080p video. It also supports hardware acceleration (aka h.264 encoding) on many platforms and with many video conference tools, which reduces the load on your computer's CPU (and keeps your computer running cooler and using less battery). This particular model also features a simple built-in privacy shutter, excellent monitor mount, and a long USB cable.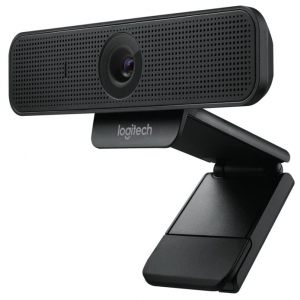 If you can't find the C925e, your best alternative is the Logitech C920. This is the consumer version of the same hardware — the webcam looks a little different but is also a 720p / 1080p HD cam with built-in mics. It doesn't have the privacy shutter, however.
The best high-quality speakermic for remote work: Jabra Speak 410
You may think you don't need a speakermic for your work-from-home setup — that perhaps this only makes sense for conference rooms and offices. But trust me: this is the secret weapon of every well-equipped home office. This recommended model is very low-cost to boot!
My favorite model here is the tried-and-true JABRA Speak 410 USB conference mic + speaker combo. This should run you $90-$100.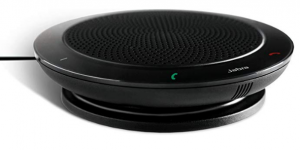 I have three of these in my home office: one connected to my Mac Mini; one connected to my laptop docking station, which happens to have a Lenovo laptop running Ubuntu Linux that I use for programming; and one connected to my Windows 10 Media PC, that I use for Skype and phone calls that I take from the comfort of my couch.
Here's what makes these conference-room-quality speakermics so great. First, assuming you have a quiet home office space, you can use them without earbuds, headphones, or any wires except for the wire that connects the speakermic to your computer. This also means that when you take video calls, you don't have to worry about having that weird "telemarketer" look on the call.
The mic quality is excellent. The hardware controls for volume and mute are extremely intuitive. Surrounding the central speaker are touch controls for volume up, volume down, and mute. Your system volume is visualized with a ring of LED lights, and when you hit mute, the entire ring turns red. This is super easy to use during calls and helps when you frequently switch between Zoom, Google Meet, and other conference software, each of which has its own mute and volume controls.
Since it's a speakerphone, you don't need to worry about echo. Let me repeat that (unironically): you don't need to worry about echo! This is because the speaker and the mic are coming from the same physical location — so, you get echo-free communication without the need for earbuds or headphones. If you have meetings all day, this will be much more comfortable than wearing pretty much any ear-covering hardware.
What's more: this Jabra device has a built-in aux port so you can plug in your headphones when you need more privacy. So it pairs nicely with a recommendation I have further down about having a spare pair of wired earbuds available for calls.
Jabra has some other nice models in this series, too, if you have other preferences. If you're willing to spend a couple hundred bucks on this problem, they have a premium version of this speakermic that has a nice built-in kickstand, built-in Bluetooth support, and a rechargeable battery (claimed at 15 hours, but many users say the true battery life is closer to 5-10 hours). It also still includes a plain USB 2 cable for direct connection and to charge the battery. This model is called the Jabra Speak 710. Unfortunately, this model is missing the aux port, but if you're going all-in on Bluetooth, this might work well with your existing headphones.
Finally, if you have the space for it, Jabra also has a much higher-quality (and much bigger) model of this speakermic called the Jabra Speak 810. This model is nowhere near as portable as the 410, but the larger speaker is more powerful and the mic array has a lot more noise cancellation built in. Plus, it's separately powered by an AC adapter, and has a built-in aux cable (not just an aux port) that you can use to plug in a phone or other device.
The best wired earbuds for remote work (and why you need them)
If you use the Jabra recommendation above as your daily driver for audio on calls, you'll rarely need to use headphones. However, if you use pretty much any other hardware for your video calls, you'll want a pair of wired earbuds handy. This is because operating systems and video conference software are simply no good at echo cancellation, so it's best to fix the issue at the hardware level.
For example, let's say you use your computer's built-in webcam and mic for a video call. Typically the speakers for your laptop are located near the keyboard, the mic is located near the webcam atop your screen. Depending on a number of environmental factors, calls taken with this setup will introduce a bit of echo. But, you can kill the echo by plugging in some wired earbuds.
Likewise, if you purchase the Logitech C925e webcam discussed above, it has high-quality stereo mics built in to the webcam itself. But, depending on where your computer's speakers are positioned relative to the webcam, you'll get echo without buds if you use the webcam as your mic.
You may be wondering about wireless earbuds. Yes, right now Bluetooth and wireless headphones are all the rage, but note that Bluetooth is finicky with connection issues, and even introduces a perceptible 100ms of audio latency. Old school wired aux headphones work on every operating system, every time, and introduce no connection issues or latency. Since aux ports aren't standard on every modern laptop, you may need to have an adapter available. However, remember that the Jabra speakermic mentioned above has an aux port built-in that translates the audio over your USB 2 cable. So, that can also help!
If you want to get fancy from a comfort/quality standpoint, the Bose Soundsport Wired Earbuds are a good choice, though make sure to get the "Audio Only" (no mic) option so that you don't have to fiddle with the mic settings and can just use the built-in on your webcam or computer, which tend to be higher quality. There are also a plethora of other options available if the stock on these is low.
---
NOTE: As of March 28, 2020, a couple people wrote me to say that the above Bose Soundsport Wired Earbuds are discontinued and thus very hard to find. In a pinch, I'd say the best alternative is to just pick up the standard Apple White Wired Aux Earbuds. If you don't have an aux port on your laptop, USB-C and Lightning adapters are widely available for just a few bucks. Some folks also suggested the Sennheiser CX 100 in-ear earbuds. I ended up purchasing these, too. They are a solid set of aux headphones that come in black or white styles, and they have an extra-long and thin cord, which makes them comfortable for video conferencing. Amazon seems to have a good stock of these.
---
There are a couple of other options to have a "wired backup" to a pair of wireless headphones. These are the Bose Soundlink On-Ear Bluetooth Headphones and the Bose 700 Over-Ear Bluetooth Headphones.
Each of these headphones includes a wired aux cable that plugs into the wireless headphones and allows them to work without Bluetooth. This can combine nicely with the Jabra speakermic above. As for deciding between the on-ear Bose Soundlink and the over-ear Bose 700, here's a quick pro/con based on my own personal experience with both:
The Bose Soundlink On-Ear is a super portable pair of headphones. They "collapse" into a tight bundle that can be tucked away in a drawer or in your backpack. Since they are on-ear models, they also tend to be more comfortable for extended wear. The volume and Bluetooth controls are hardware buttons that are easy-to-use. However, if you are using them for Bluetooth calls (that is, as a mic and as a speaker), the mic quality is not necessarily the best. And the noise cancellation is minimal.
The Bose 700 Over-Ear headphones are less portable, but they are a super-high-quality, both the audio quality and the fit-and-finish. They have a number of features specifically designed to work well with your smartphone — for example, integration with Google Assistant (on Android) or Siri (on iPhone). They also uses the latest Bluetooth standard (5.0) and a rapid Bluetooth pairing speed. If you choose to use these for Bluetooth calls, they have the best noise cancellation sound you can find, and even have an extensive ambient noise cancellation for the stereo mic array.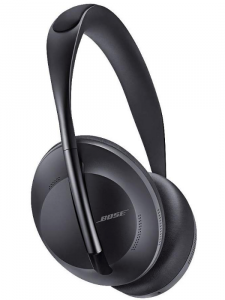 Between these two, I think the Bose 700 is the better option in 2020, especially if portability isn't a concern.
One more note on Bluetooth devices
I generally advise all remote workers to avoid Bluetooth devices altogether. If you insist on using them, you should follow these rules:
Keep the headphone or speakermic permanently paired with your computer, as the slow speed of pairing can be really annoying in conference calls.
Make sure your device, your computer, and your operating system are all at least Bluetooth 4.0 compatible. If your computer isn't, buy a cheap USB adapter to add Bluetooth 4.0+ support. If all of your devices aren't Bluetooth 4.0 compatible, your audio quality on calls will be terrible for the other parties on your call, even though the quality for you might be fine. If you've ever been on calls where the other person sounds really "tinny" and their mic quality sounds terrible, it's probably because they were using Bluetooth 1.0 – 3.0 somewhere in their device chain. The Bose Soundlink On-Ear Headphones I recommend above have Bluetooth 4.0 support.
Ideally, opt for Bluetooth 5.0 devices. These are newer and have some further improvements. The Bose 700 Over-Ear Headphones I recommend above have Bluetooth 5.0 support.
But, given all the issues with Bluetooth — range, connectivity, pairing, different versions of the standard, and software issues on the operating systems themselves — I really recommend you treat these devices as "backup options" and go with higher-quality USB 2 devices recommended above as your daily drivers.
Another tip: if you're low on ports, use a USB hub or dock
People who work from home regularly want to avoid the scramble typically involved to plug in all the devices needed for a good video call. A USB hub or dock makes this a snap — reducing the problem to a single cable. Here are some recommendations:
Overall, these are cheap, solid options that you'll probably need given how many devices you'll want to plug in at-once via a single cable.
Some software recommendations
Once you have all this great hardware, you also need to master the software on your operating system of choice. Here, I have some recommendations for Mac OS X software you can use for a number of common remote working problems. There's probably equivalent software available for Linux and Windows, too.
Adjust your mic settings: On OS X, you can keep a shortcut to the "Systems Preferences" application on your dock, and you can also use the Volume Control in the top-right of your operating system to quickly switch output devices. You can also use the Skype call testing "echo" service to easily test your audio settings. Here's how the Sound preferences panel looks. Make sure to check off the checkbox at the bottom: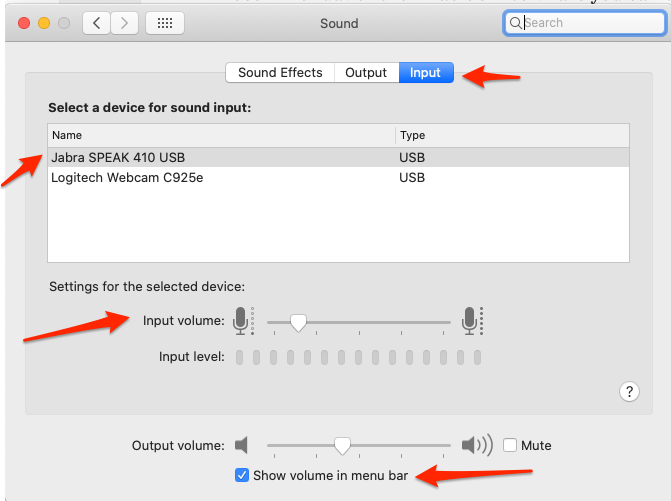 Adjust screensharing resolution: when screensharing, you'll want to turn down your screen resolution, especially if you have a 4K monitor or retina display. Switching to 720p (e.g. 1366×768) or 1080p (1920×1080) tends to be the best to provide real estate while also making text readable for most screenshare watchers — salespeople, this also applies to when doing webinars or sales calls for prospects and customers! An excellent free app on Mac OS X for this is called BestRes. It lets you switch resolutions in a single click. Here's how that looks: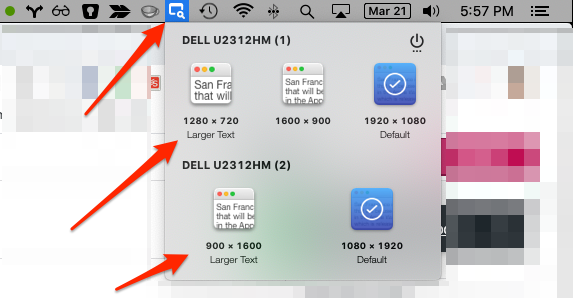 Turn off notifications: there's nothing more embarassing than getting a text message on iMessage in the middle of an important work meeting. On OSX, the free app Muzzle will hide all of your notifications whenever it notices that a Zoom or Google Meet call is running. This is very important. If you're the kind of person who gets a lot of "private" text messages throughout the day, you don't want these being streamed over your video conference to your boss and work colleagues! Here's a couple of "embarrassing message" examples from the Muzzle website: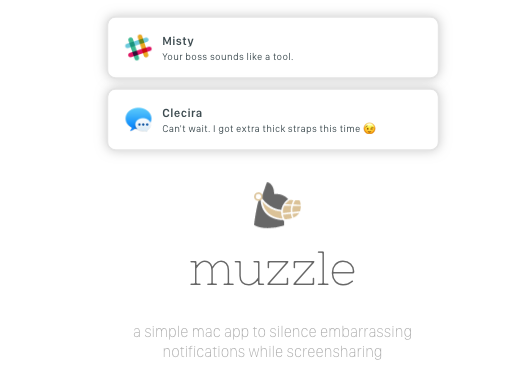 Toggle your webcam's video stream: The Logitech C920 webcams recommended above have two different "streams", the "Standard Definition" (360p) stream and the "High Definition" (720p or 1080p) stream. Unfortunately this can't be toggled at an operating system level, you have to check the settings for each individual app to adjust this. But, for the highest quality calls, you'll want to make sure "High Definition" is selected. You can use "Standard Definition" when bandwidth usage is a concern. Here you can see the way these settings show up in Google Meet. To get to this panel, you need to click the "…" button and then goto "Settings".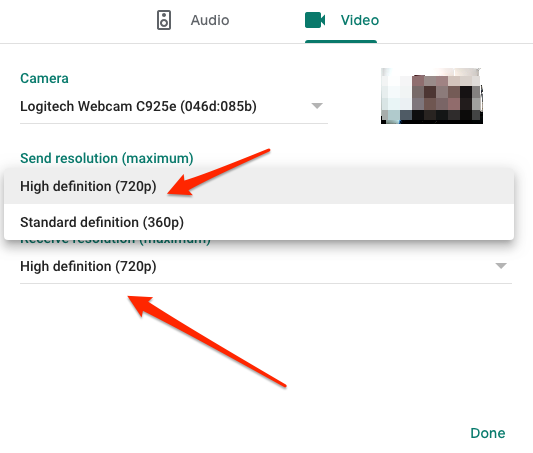 Final real-world tip: use a simple real-life backdrop
People tend to get needlessly distracted by what's in the background of your video calls. Ideally use a plain white backdrop or tailor your backdrop with things like a neat bookshelf or wall art.
Here's a screenshot I took of a recent team call, where I blurred out people and then gave "report card grades" to their backgrounds. Note that two of these folks, I had no clue what their actual background was, since one picked a NASA control room as their "virtual background" and the other picked the University of Virginia campus!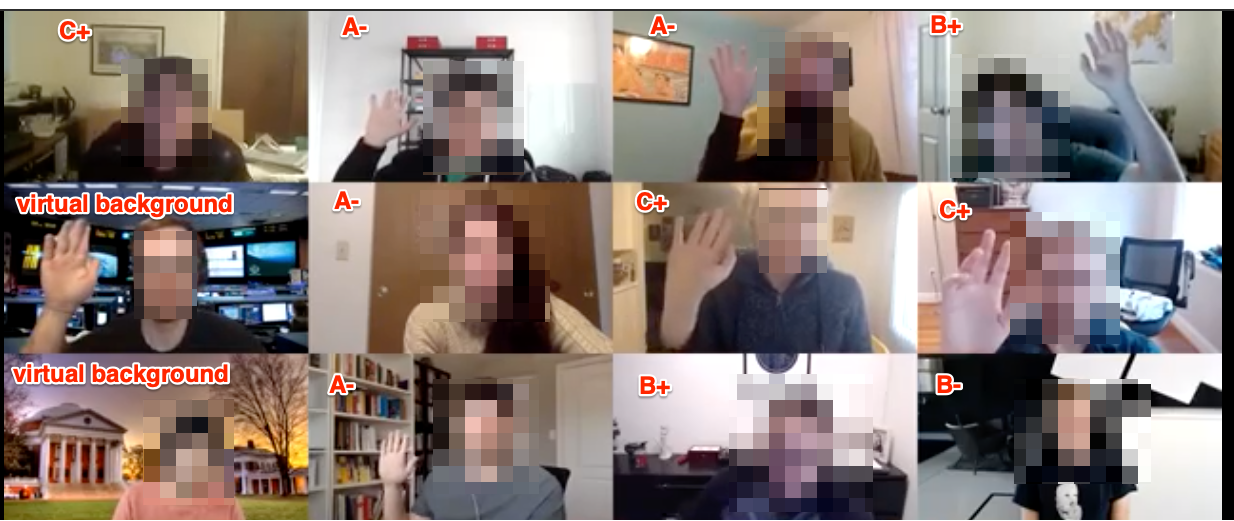 If your room is a mess, pick a nice virtual background! This is only really supported in Zoom via its Virtual Background feature, but note that it increases the CPU load of calls and requires a computer with a modern GPU.
Toward distributed team zen
I hope you found all of these recommendations useful.
If you have other questions about how to manage your fully distributed team, you can reach out to me to schedule a quick 30-minute call and get some advice via this link:
https://calendly.com/amontalenti/distributed
Or, to ask me quick questions online, you ping me on Twitter at @amontalenti.
---
Update: Matt Mullenweg, the CEO of Automattic, has written a nice post comparing (with real audio clips) various "boom mic" headset microphones. Most of his suggestions use USB audio which works equally well across Windows, Mac, and Linux (at least usually); and, being wired, you don't have to mess with pairing issues. Of course, it does mean you have to worry about the cord. Here's Matt's full round-up of headsets . Also: a few people have asked me about Krisp.ai, a service that layers background noise suppression atop your existing sound system in Windows and Mac OS. Though this might be handy in a pinch, I've found that Zoom's built-in background suppression is good enough, and I wouldn't be surprised if background noise cancellation becomes a "table stakes" feature in all video conferencing software (and perhaps even at the OS level) soon.