My good friends at HiiDef just launched a new app that has been in beta for awhile, Flavors.me. This is an excellent tool that has a great, simple, and usable design.
What's the value preposition of Flavors.me? It's to unify your various "online identities" into a single, dynamic, automatically-updated, and elegant website.
What do I mean by that? OK — so, like most people on the web, you spread public information about yourself in multiple places. You might run one or two blogs (personal and work?). You might have a Facebook account, a Twitter account. You may share your favorite books at GoodReads, your favorite movies at Netflix, and your favorite music on Last.fm.
Flavors.me lets you take all that information and put it together in a single website to serve as your "online identity". All your publicly shared information, aggregated in one place, and displayed beautifully.
I've been running a Flavors.me site for some time that you can see here: http://flavors.me/pixelmonkey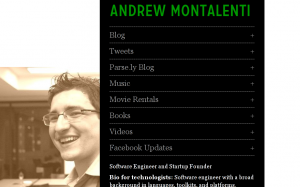 Now, that's the end product. All the content gets pulled dynamically from your various online feeds. The real magic with Flavors.me is how easy it is to get there. You can drastically change the look and feel of this site using a dynamic, "WYSIWYG" interface. You can do one or two clicks to add a service, reorder it, rename it. Another couple of clicks and you change font sizes, colors, and even the overall layout.
Continue reading Flavors.me emerges from beta: lifestreaming for the masses